53...
I have tried to be pretty adventurous in trying new foods while in Asia. If you knew me as a child, I think you would be shocked with the foods that leave my plate. I was definitely a picky eater. My travels to Europe and Asia have expanded my palate but have also helped me to always be willing to try at least one bite.
Things I never ate as a child but do now:
Tomatoes

Potatoes, in any format other than thin french fries

Avocado

Red, yellow and orange peppers (still working on green)

Raw fish in "sushi rolls" - have yet to tackle sashimi

Oysters

Rice

Foi gras

Asian sauces

Chinese tea

Fried egg

Broccoli

....and the list could go on.
And here are some of the items I've consumed which I would say are more on my exotic spectrum:
Century Egg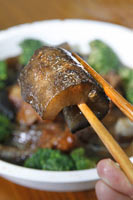 Durian (I tried this a long time back :) )
Chicken feet (well, foot) - the before and after shots
Most recently, frog in Cambodia
I have not tried the fish head curry (including eyeball), pig organ soup, silk worms in a cup from Korea or other crazy insects. I'm pretty confident I can do without these. :)
Have a great lunch!! ;)